Licensed & Fully Insured Landscape Contractors
Brooks Hauling, Grading & Landscaping, LLC are licensed and insured Landscape Contractors. We provide prompt, reliable landscape installation and remodeling services to homeowners, business owners and municipalities in Moore County, North Carolina. Our services span all aspects of landscaping from land clearing, grading and tree removal to debris hauling, sod installation, hardscaping and concrete work.
Licensed by the State of North Carolina, we have been professionally trained in all aspects of grading and landscaping. Our training and continuing education ensures we are always on top of the latest codes and ordinances for installing turf, plants, drainage systems, custom retaining walls, concrete, and completing grading work. Coupled with more than 30 years of experience, we are your local, professional landscaping and grading experts in the Sandhills area of North Carolina.
Our Beginning
As a child, founder and owner, Chris Brooks was always fascinated by heavy equipment.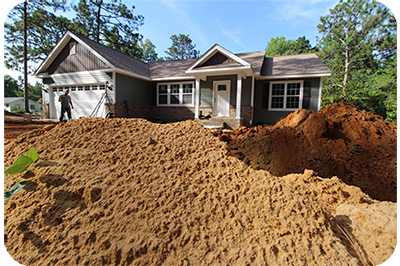 Like most boys, he grew up playing in the dirt and owned every Tonka Truck ever made; but just playing in the dirt wasn't enough. His dream was to one day own and operate real equipment that could move earth and transform backyards. Learning the importance and value of hard work from his father, Chris made his dream come true. In 1988 Chris started Brooks Hauling, Grading & Landscaping, LLC.
With only a dump truck and some hand tools Brooks Hauling, Grading & Landscaping, LLC initially focused on residential landscaping and debris removal. As the company grew it invested in heavy equipment such as track loaders, excavators and 4×4 dump trucks, allowing it to expand its services and complete more complex projects, faster and more efficiently.
Today Brooks Hauling, Grading & Landscaping, LLC is one of Moore County's top landscape installation and remodeling companies. Known for prompt service, quality work, and attention to detail, we take pride in the superior reputation we have earned.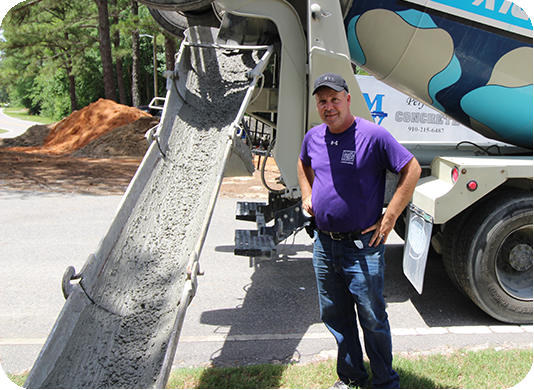 Commitment to Quality and Customer Satisfaction
Family-owned and operated, Brooks Hauling, Grading & Landscaping, LLC is committed to high standards of quality. Our core values are rooted in honesty, reliability and dedication. We know the value of hard work and the importance our work plays in your overall project, whether preparing a lot to build a home or installing sidewalks or other hardscape features. There is nothing more satisfying than finishing a job and a looking back at what we were able to create. We are proud of the work that we do and enjoy transforming landscapes into our client's dream.
Ready to Get Started?
Contact us today for a free quote on your hauling, grading or landscaping project.
Contact Us